Affiliate Marketing Business
For anyone who wants to start an online business, affiliate marketing provides one of the simplest ways to get started. There are many opportunities to earn either part time or full time income as an affiliate.
This is a business model that has rapidly grown in popularity over the last decade or so. Let's look at exactly what affiliate marketing is, why it's such a potentially profitable business strategy and how you can find affiliate marketing success.
What is Affiliate Marketing?
Affiliate marketing is a business arrangement in which a person sells a product or service on behalf of another company and, in return, receives a commission for each sale. Some of the largest companies on the web, such as Amazon and eBay have affiliate programs. Thousands of smaller businesses also sell products in this manner.
Benefits Of Affiliate Marketing
Affiliate marketing provides benefits for both the affiliate and the product owner. Product owners and service providers recruit affiliates to reach a wider audience. The affiliates do the marketing on their behalf, so all they have to do is deliver the item. Both physical and digital products can easily be marketed in this manner.
For affiliates, there are also some significant benefits. When you join an affiliate marketing program, you are given an affiliate ID, which ensures that you earn a commission whenever you sell the product. This allows you to make money without having a product of your own.
In many cases, you get access to marketing materials, such as sales letters, banners or email messages that make it easier to sell the products. This is why affiliate marketing is such a good way for beginners to get started with a web based business. Much of the work is done for them.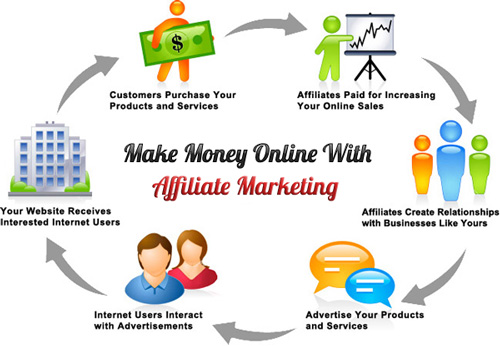 Affiliate Marketing Tips
Let's now look at some ways to make affiliate marketing easier and more profitable.
Choose the Right Products -It's best to sell something that you are familiar with and that you believe in. Don't randomly choose products simply because you think they will be popular. Do some research, and stick to products that you can wholeheartedly recommend.

Brand Yourself -While it's easy to do affiliate marketing using the company's promotional materials, you should also do some branding of your own. For example, write a unique review of a product that you've tried and feel comfortable about recommending. Tell people exactly why you like it and why it's superior to competing products.

Test Different Approaches -It often takes time and experimentation to come up with profitable affiliate campaigns. If you are using paid advertising, for example, you may have to test different headlines and phrasing. You can also test different marketing methods, such as writing articles, making videos, social media and so forth.

Stay Within Your Budget -It's easy to spend a lot of money on advertising, SEO and other services when you're trying to market affiliate products. As mentioned above, you need to test each approach carefully. For that reason, be careful how you allocate your budget. Don't overspend on a method that might not be profitable. There are quite a few free and low cost ways to market affiliate products. These include article marketing, social media campaigns, video marketing and blogging about products.